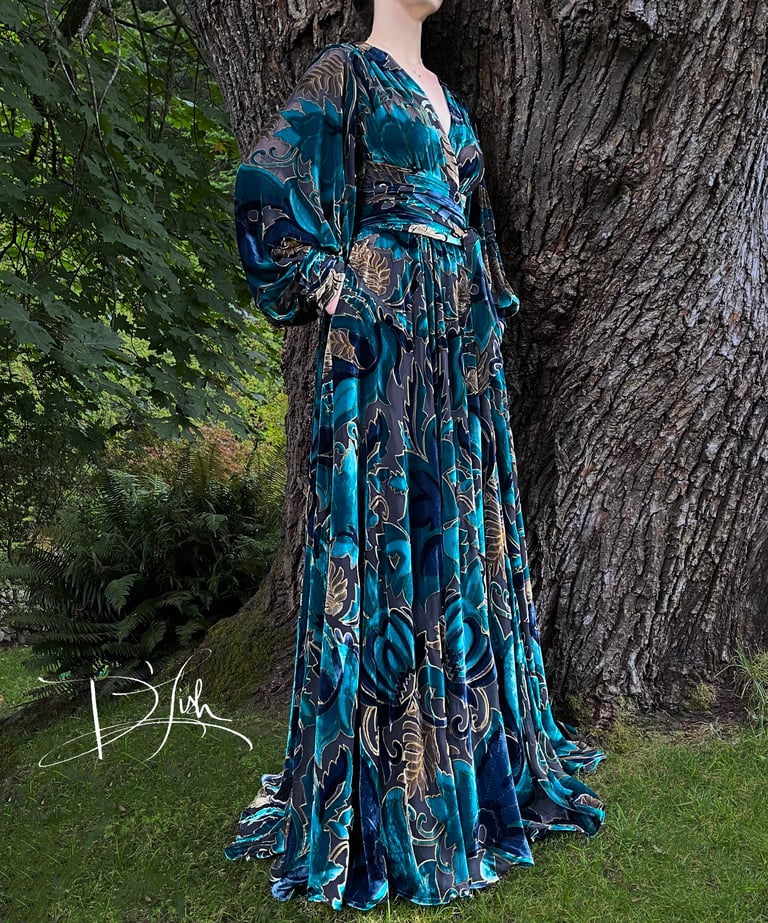 Teal Silk Velvet Burnout "Beverly" Dressing Gown w/ Crystal Button Cuffs PRE-SALE DECEMBER DELIVERY
PLEASE NOTE: PRE-SALE DECEMBER DELIVERY
Now available as a pre-order for December delivery (prior to the holidays). When they sell out, we will not be able to add additional pieces.
This dressing gown embodies pure extravagance with dramatic sleeves and fitted cuffs for a classic boudoir feel reminiscent of Hollywood's golden era. The skirt is extremely full, and the three large crystal buttons on each cuff perfectly enhance the luxuriousness of the fabric. The sheer teal mix silk burnout velvet drapes beautifully around the bodice, and nips in at the waist with a sexy sash. Pure decadence, and the sensuously sweeping skirt is a full circle shape, ideal for impromptu dance numbers around the house! All this and pockets too!
Available in the following sizes with Petite options for all sizes:
XS, S, M, L, XL, 1X, 2X, 3X
Sizes in stock will show in the dropdown menu. If your size is sold out, please feel free to inquire via the contact form, and we will happily notify you when your color/size is restocked.
Fabric content and care: Fabric is silk burnout velvet. Fabric composition: 18%silk 82% rayon We recommend dry clean only. The small snaps are meant to secure the gown while you are tying your sash, please open them with care, aggressive yanking may rip them off of the gown.
In stock "available now" gowns generally ship 1-2 days from date of purchase. Our usual shipping days are M/W/F. Expedited shipping is also available.
We will require a telephone contact number, this is mandatory information for our shipping labels (for our carrier to contact you if there is an issue with delivery). All of your personal information will be kept confidential, but we will not be able to ship to you without it.
All items shipped with insurance and signature required upon delivery unless otherwise requested. If you choose to waive the required signature, the shipping company will not be able to provide coverage if your package is lost after delivery.
Upon arrival, we recommend that you let your feathered gown hang to allow the feathers to reach maximum fluff again! Your gown will LOVE a light steaming to bring the full volume of the feather trim to all it's glory. The "Beverly" (and other smaller gown styles) will ship in a gift box enclosed in a shipping box. We also recommend steaming for our charmeuse gowns.
We do ship globally. Our shipments within the US will generally arrive in 2 business days from time of shipment. For international shipments, your government may charge import fees/taxes. Our shipments outside of the US generally arrive in about a week or less.
No refunds or returns on gowns. Please feel free to ask any questions you may have prior to purchase, there is a contact form here at the store to reach us via email.