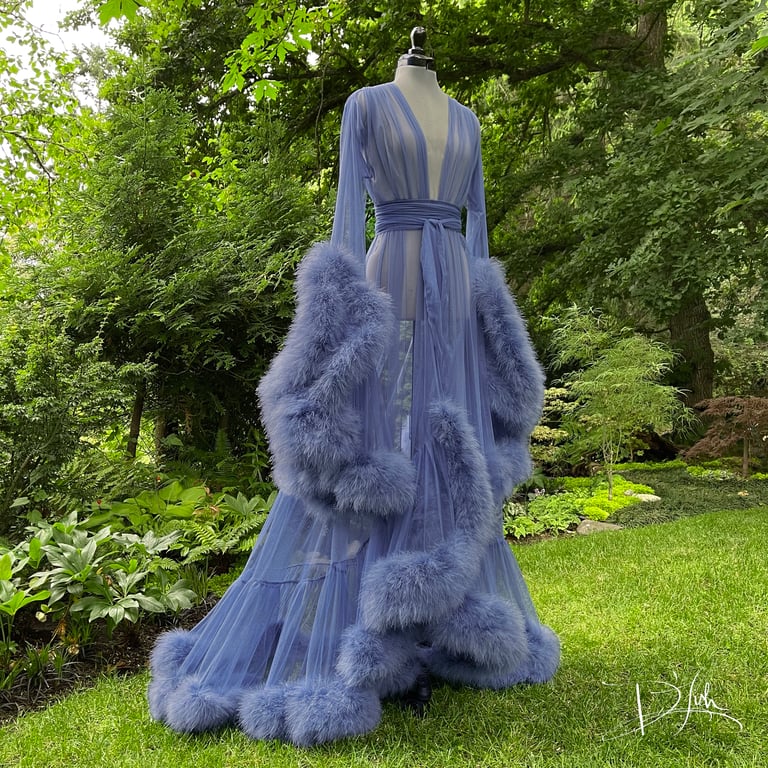 Bleu Steel "Cassandra" Dressing Gown
$
249.99 -
$
299.99 —
Sold out
We are thrilled to introduce our new color, "Bleu Steel". This is a fabulous shade of blue-grey, or grey-blue... in some lighting you may see hints of lavender. A fascinating hue, and as chic as can be.
PLEASE NOTE:
We are not always able to keep gowns in stock. The drop down menu will specify, "Available now!" if it is here and ready to ship.
Also available in other colors.
Romantic and feminine, this sheer dressing gown is trimmed with plush marabou. Gown is made from a delicately sheer, yet hardy english net. Ruffled skirt and sleeves are extravagantly enhanced with thick layers of marabou. Ties at waist with same-fabric sash.
This gown has a width of about 110" around the body & hips, and the sleeves are deeply cut for comfort. The 55"-70" length has a shoulder width of 18 inches, and the sleeve opening is 18 inches in circumference (9" vertical cut). The 55"-70" length PLUS has a shoulder width of 24" inches, and the sleeve opening is 26 inches in circumference (13" vertical cut). Offered in two lengths, 50"-65" & 55"-70"
Decadent loungewear is our thing, boxes are not. We feel that it's more ecologically sound to ship in minimal packing materials. Your gown will safely travel first class with full insurance and arrive in a jiffy, but with less packing materials for you to recycle later.
Expedited shipping is also available.
We will require a telephone contact number, this is mandatory information for our shipping labels (for our carrier to contact you if there is an issue with delivery). All of your personal information will be kept confidential, but we will not be able to ship to you without it.
All items shipped with insurance and signature required upon delivery unless otherwise requested. If you choose to waive the required signature, the shipping company will not be able to provide coverage if your package is lost after delivery.
The "Cassandra" style (and other large gown styles) will be shipped in a box sized about 9"x9"x12". Your gown will be snug in the box, but not damaged by the compact packaging. Upon arrival, we recommend that you let your gown hang to allow the feathers to reach maximum fluff again! Your gown will LOVE a light steaming to bring the full volume of the feather trim to all it's glory. We pack our larger gowns in this box to keep your shipping and insurance charges manageable. If you prefer your gown shipped in a larger box, please go to the "Express Shipping/Rush Fee/Upgrade" page to add that option to your cart. You will find options for either US or International delivery in the dropdown menu there. The "Beverly" (and other smaller gown styles) will ship in a gift box enclosed in a shipping box.
We do ship globally. International shipments may be subject to your government customs fee/tax. Our shipments within the US will generally arrive in 2 business days from time of shipment. Our shipments outside of the US generally arrive in about a week or less.
No refunds or returns on gowns. Please feel free to ask any questions you may have prior to purchase, there is a contact form here at the store to reach us via email.